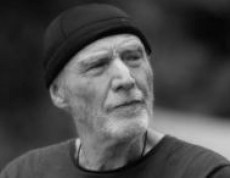 RYSZARD KRYNICKI
Tradução de Francisco José Craveiro de Carvalho a partir de versões inglesas de Alissa Valles.

---
 Ryszard Krynicki é um dos poetas mais proeminentes da Polónia do pós-guerra. Nasceu em 1943 em Sankt Valentin, Áustria, para onde os seus pais haviam sido deportados. Entre os prémios que recebeu está o Zbigniew Herbert International Literary Award, 2015.
Alissa Valles recebeu recentemente o Aldo and Jeanne Scaglioni Prize por Our life grows, tradução de um livro de Krynicki.
---
The Museum of Fine Arts in Budapest
How did you find yourself here,
poor mummy of an Egyptian princess,
exposed to alien stares?
Now it is here you have your afterlife.
I myself am a part of it for a moment,
while I'm looking at you.
So far there is no other.
No one knows
if there will be.
Museu de Belas Artes em Budapeste
Como chegaste até aqui,
pobre múmia de uma princesa egípcia,
exposta a olhares estranhos?
É aqui que agora passas a tua outra vida.
Eu mesmo sou parte dela por um instante,
enquanto estou a olhar-te.
Não há outra por agora.
Ninguém sabe
se haverá.
---
He who always knows
He who always knows
to which god he prays,
will never be heard.
Quem sabe sempre 
Quem sabe sempre
a que deus reza
nunca será ouvido.
---
This Year
This year
I bore no fruit
only leaves
that give no shade
I'm afraid, Rabbi,
I'm afraid, Lord,
that a hungry
weary man curses me
on the endless road
to Jerusalem
Este ano 
Este ano
não dei frutos
folhas apenas
que não dão sombra
tenho receio, Mestre,
tenho receio, Senhor,
de que um homem
cansado e fatigado me amaldiçoe
no caminho interminável
para Jerusalém
---
Return from Assisi
A mutilated Giotto. A loud: Silenzio!
From a car transporting animals
we passed on the way
the helpless look of a calf
being taken off to slaughter
follows me.
Help, Saint Francis.
Appear before the slaughterhouse gate.
And if you are busy at the moment,
please send
your brother Sylvester
or a wolf from Gubbio.
Regresso de Assis 
Um Giotto danificado. Voz alta: Silêncio!
De um camião  carregado de animais
por que passámos na estrada
os olhos desamparados de um bezerro
a ser levado para abater
perseguem-me
Ajuda-me, São Francisco.
Aparece antes dos portões do matadouro.
Se estiveres agora ocupado,
manda por favor
o teu irmão Silvestre
ou um lobo de Gubbio.
---
Buddha, Christ,
Buddha, Christ,
in vain you are hiding
in so many incarnations.
Buda, Cristo 
Buda, Cristo,
estais escondidos, embalde,
em tantas encarnações.
---
Job's guilt
Everything was fulfilled,
I was spared nothing.
Who will forgive me.
A culpa de Job 
Tudo foi cumprido,
a nada fui poupado.
Quem me perdoará.
---
Rue de Poitiers
A late afternoon, snow is falling.
Near the striking Musée d'Orsay you see
a grey bundle on the edge of the sidewalk:
a bum rolled up into a ball (or a refugee
from some country plunged in civil war)
still lying on a plaid, wrapped in a blanket,
a salvaged sleeping bag and a right to live.
Yesterday he also had a radio switched on.
Today freezing coins are laid out on the newspaper
in constellations of non-existent planets and moons.
Rue de Poitiers 
Fim de tarde, neve a cair.
Perto do impressionante Musée d'Orsay vemos
uma trouxa cinzenta na beira do passeio:
um mendigo enrolado numa bola (ou um refugiado
de um país mergulhado numa guerra civil)
ainda deitado numa manta, embrulhado num cobertor,
um saco-cama reaproveitado e um direito à vida.
Ontem tinha um rádio ligado também.
Hoje há moedas geladas dispersas no jornal
em constelações de planetas e luas por existirem.