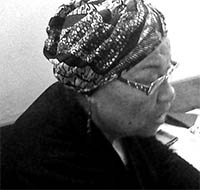 ALTHEA ROMEO-MARK
Leaving
She sleeps, deeply.
We watch her chest heave lightly,
like a young babe.
We wonder if she can hear us
when we speak.
Dad says her chin needs shaving.
She would not wish to look
like an unkempt hobo or
a homeless creature
who has lost her way
in this world that hounds the weak.
We speak softly,
wonder if she is listening,
hope we are not saying things
that hurt her feelings.
"Is she going to wake up?"
"Shhh. She might hear us, you know."
Still hopeful, we slip out
after two hours of holding
and rubbing her hands,
whispering, "See you tomorrow."
But she departs during the night,
fed up with the hair she cannot trim,
tired of having to lie still,
and hurting with bedsores
she cannot tend to.
Bored also with conversations
she cannot partake in,
and sick of being an object
people come to stare at.
She is weary of being looked after
When she has cared for others
all her life.
© Althea Romeo-Mark 07.09.17
---
Balloon
She is full of tears,
waiting for the moment—
a piercing look of knowing pity,
a pricking word of sympathy,
a shared intimate memory,
waiting to burst,
let go of loss.
Still brimming with the sight
and sound of suffering,
the agony of waiting,
the slowing of breathing
the memory of last rasping,
the crossing still unacceptable.
The touch till stabbing –
hand cold, hard as marble
at the final viewing.
She is still waiting to break.
What will it take—
a pen to paper,
special song,
favorite hymn,
a photo shared
an apparition,
a secret sèance?
What will it take
to perforate that pain,
empty her soul of sorrow?
© Althea Romeo-Mark 07.08.17
---
Just A Few More, Papa God
During shopping spree,
a rattan tray of roastcorns
snares the man's attention.
The seller does not speak.
A wide straw hat shelters her from the sun.
Sweat slinks down her brown face.
Her eyes beg him to buy one or two.
.
She's been there since morning
sitting on her hand-hewn stool
husking corn, peeling cassava,
fanning coal to roast them,
to parch peanuts.
She offers boiled alternatives
to suit the taste of customers.
Their eye to eye conversation,
reveals a meager living.
He understands there
are many mouths to feed.
He, with his big shopping bags,
treats his entourage her snacks,
then rushes off without looking back.
She looks up to sky,
scans her competitors who line the streets,
gazes at her dwindling coal sack,
and prays "Just a few more, Papa God,
just a few more."
© Althea Romeo-Mark 06.08.2017
---
Hand in Hand
The vein-raised hand grasping
the smaller, softer hand,
seems to squeeze it.
The man's eyes
speak of fear and loss,
and the need to cling.
The girl he guides
takes in the surging throng
hustling through the passage-way
of the train station.
The owner of the veined hands,
hawk-eyed in bus and tram,
leads her home, where
he will secure windows,
double-lock doors.
How long will this feeling last?
Can someone assure him
that nobody will pounce again,
deprive him of yet another loved one?
©Althea Romeo-Mark, 2004
---
Born in Antigua, West Indies, Althea Romeo-Mark is an educator and writer who grew up in St. Thomas, US Virgin Islands. She has lived and taught in St. Thomas, Virgin Islands, USA, Liberia (1976-1990), London, England (1990-1991), and in Switzerland since 1991.
She was awarded the Marguerite Cobb McKay Prize by the Editorial Board of The Caribbean Writer in June, 2009 for publication (short story "Bitterleaf,") in Volume 22, 2008. She was awarded the Arts and Science Poetry Prize for poems published in POEZY 21:Antologia Festivaluluiinternational Noptile De Poezie De Curtea De Arges, Curtea De Arges, Romania, 2017.
She writes poetry and short stories and has been published in the Virgin Islands, Puerto Rico,  Antigua and Barbuda, The Bahamas, Barbados, USA, England, Switzerland, Germany, Norway, Colombia, India, UK , Kenya, Liberia, Romania and Switzerland. Her last poetry collection, If Only the Dust Would Settle, was published in 2009.
Recent publications
Poems, "Castaway," " Discounted," and "The Nakedness of New," after which my upcoming poetry collection is titled, is now published in the German/Austrian online magazine, Journal for all Immigrants .http://migrazine.at/ 2017; "Lost Love," Songs of Yemaya: Stories of Black Women, ed. Nichelle M. Calhoun, Diaspora Records, USA, 2017; " Birth Annoncement," "Rope," and "Like Mami Wata in Hiding," POESYS 21, Romania, 2017;"Going Where the Roof is Vast," "What Poseidon Tosses Up",  "If We Could Buy A Miracle," DoveTales: Refugee and the Displaced, An International Journal of the Arts, 2017.
Poems "Aqui Me Quedo,", "Carte Blanche", Cavehill Journal of Creative Writing, no. XVII, University of the West Indies, 2016; "The Old Cat on Our Street" and "Nameless Road," The Caribbean Writer, Vol. 30, Dec. 2016, "An Immigrant Story, The Arts and Self Knowledge," and book review of If Only the Dust Would Settle by Valerie Knowles-Combie,  The Antigua and Barbuda Review of Books, Vol. 9, summer 2016, "Rope," "Cookbook," and "Liberian Devil Comes to Town at Christmas." DoveTales, Family & Cultural Identity: An International Journal of the Arts, 2016. "Runners in the Marathon of Time," WomanSpeak: A Journal of Writing and Art by Caribbean Women, Ed. Lynn Sweeting.Vol.8, 2016; poem "Camp," Moko: Caribbean Arts and Letters, Issue 8, March 2016 (http://mokomagazine.org/wordpress/issue-8-march-2016/); featured poet in Kwee: Liberian Literary Magazine, February issue, 2016.