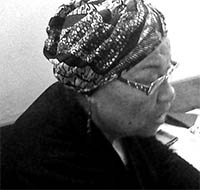 ALTHEA ROMEO-MARK
---
Born in Antigua, West Indies, Althea Romeo-Mark is an educator and writer who grew up in St. Thomas, US Virgin Islands. She has lived and taught in St. Thomas, Virgin Islands, USA, Liberia (1976-1990), London, England (1990-1991), and in Switzerland since 1991.
She was awarded the Marguerite Cobb McKay Prize by the Editorial Board of The Caribbean Writer in June, 2009 for publication (short story "Bitterleaf,") in Volume 22, 2008. She was awarded the Arts and Science Poetry Prize for poems published in POEZY 21:Antologia Festivaluluiinternational Noptile De Poezie De Curtea De Arges, Curtea De Arges, Romania, 2017.
She writes poetry and short stories and has been published in the Virgin Islands, Puerto Rico, Antigua and Barbuda, The Bahamas, Barbados, USA, England, Switzerland, Germany, Norway, Colombia, India, UK , Kenya, Liberia, Romania and Switzerland. Her last poetry collection, If Only the Dust Would Settle, was published in 2009.
Recent publications
Poems "Leaving," "Baloon," "Just A Few More Papa God, " and "Hand in Hand," in Revista Triplov (https://triplov.com/leaving/), Portugal, October, 2017; Poems, "Castaway," " Discounted," and "The Nakedness of New," after which my upcoming poetry collection is titled, is now published in the German/Austrian online magazine, Journal for all Immigrants http://migrazine.at/ 2017; "Lost Love," Songs of Yemaya: Stories of Black Women, ed. Nichelle M. Calhoun, Diaspora Records, USA, 2017; " Birth Announcement," "Rope," and "Like Mami Wata in Hiding," POESYS 21, Romania, 2017;"Going Where the Roof is Vast," "What Poseidon Tosses Up", "If We Could Buy A Miracle," DoveTales: Refugee and the Displaced, An International Journal of the Arts, 2017.
Poems "Aqui Me Quedo,", "Carte Blanche", Cavehill Journal of Creative Writing, no. XVII, University of the West Indies, 2016; "The Old Cat on Our Street" and "Nameless Road," The Caribbean Writer, Vol. 30, Dec. 2016, "An Immigrant Story, The Arts and Self Knowledge," and book review of If Only the Dust Would Settle by Valerie Knowles-Combie, The Antigua and Barbuda Review of Books, Vol. 9, summer 2016, "Rope," "Cookbook," and "Liberian Devil Comes to Town at Christmas." DoveTales, Family & Cultural Identity: An International Journal of the Arts, 2016. "Runners in the Marathon of Time," WomanSpeak: A Journal of Writing and Art by Caribbean Women, Ed. Lynn Sweeting.Vol.8, 2016; poem "Camp," Moko: Caribbean Arts and Letters, Issue 8, March 2016 (http://mokomagazine.org/wordpress/issue-8-march-2016/); featured poet in Kwee: Liberian Literary Magazine, February issue, 2016.